Pump and Meter Service, Inc. history goes back to 1930 when a south Minneapolis, Minnesota mechanic named Cliff Price began servicing and repairing gas pumps for the local service station market.
His petroleum fueling service business slowly grew through the Great Depression, and as time went on, he added several employees. Howard Abel, from Buffalo, Minnesota, was one of the hired employees and is significant because he remained a full-time employee of Pump and Meter Service until 1978 when he retired. After retiring, he worked part-time until his death in 1994. Abel was just one example of the rich history of great people Pump and Meter Service has employed over its 80+ year history of petroleum fueling service.
Cliff Price, the Founder, sold out to Ken Wanner in 1957, and the petroleum service company was renamed "Price-Wanner, Inc." Cliff stayed on as a mentor for the new manager, Lee Radermacher, until Ken Wanner sold the company to form a group of investors. This group went on to become Arrow Tank Company, which still exists today in Cambridge, Minnesota. Cliff Price and Lee Radermacher reacquired complete ownership and renamed the company Pump and Meter Service, Inc. in 1959. At this time, Pump and Meter Service was located at 2711 East Franklin in South Minneapolis. Cliff continued to serve as a partner and mentor to Lee. As time went on, the young and eager Lee Radermacher began taking on more responsibilities and assumed more of an active role in Pump and Meter Service's direction.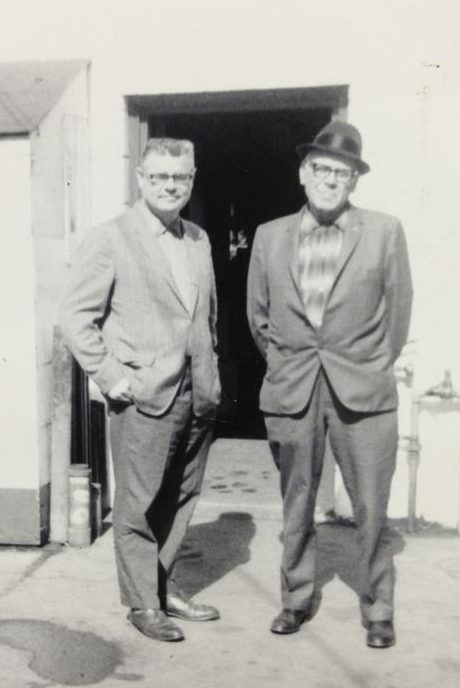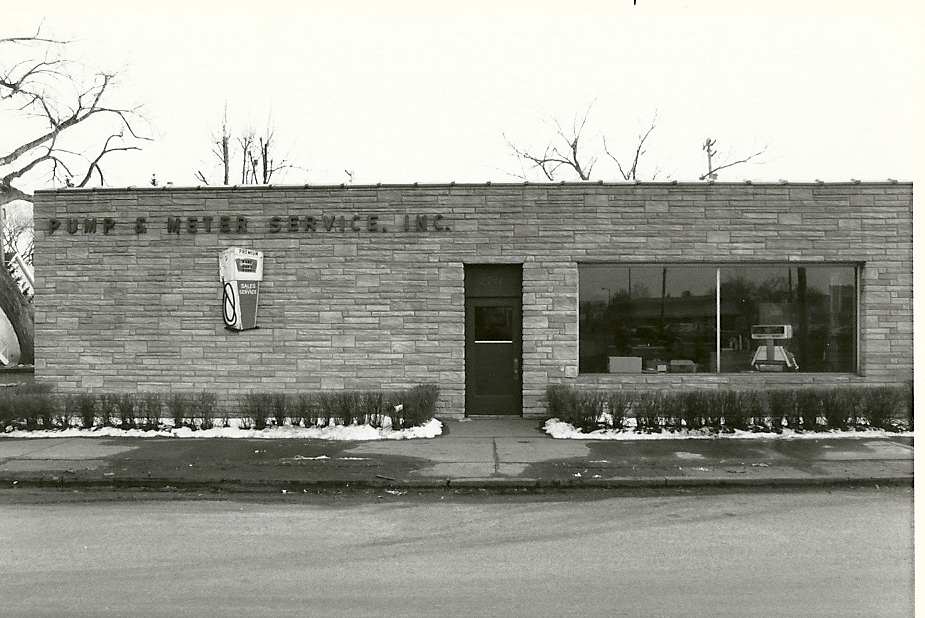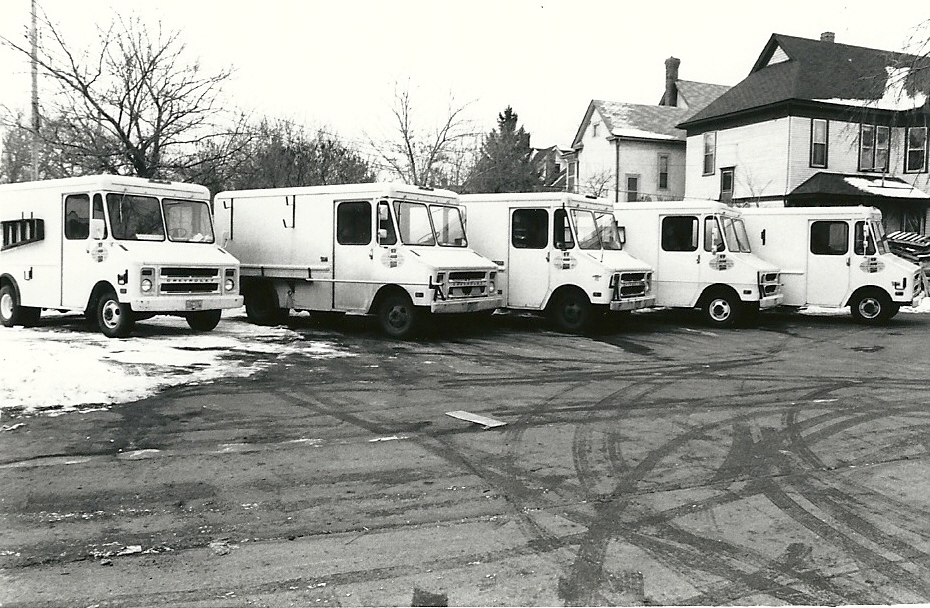 Pump and Meter Service was largely a petroleum service company for several major oil companies. They also provided petroleum services to other companies in the Twin Cities, such as Northwest Service Station Equipment and Oil Equipment. Both companies sold equipment and hired Pump and Meter Service to do the equipment installations. By 1969, Lee had complete ownership and began a growth process with steady increases in sales year by year. Sadly, Cliff Price passed away that same year. However, his tradition of a small family business with quality people was well implanted into Lee's business strategy after 10 years with such an experienced partner in the petroleum service industry.
In the early years, all gas pump lines were serviced and parts were obtained either directly from the factory or from the local distributor. Pump and Meter Service was a Bowser pump distributor in the fifties and early sixties (which, at the time, was a substantial gas pump manufacturer owned by Keene Corp). In 1963, Gilbert and Barker, Inc., later, Gilbarco, approached Pump and Meter Service about becoming a Gilbarco distributor. Gilbarco was a strong pump line in the East and South, as Bowser was floundering. Gilbarco had an almost non-existent market share in Minnesota. Pump and Meter Service took on the Gilbarco line, and in conjunction with new and innovative products from Gilbarco, proceeded to become the number one petroleum pump line in the Twin Cities. This was accomplished not only because of a great product, but more importantly by a strong service support network and the assurances from Pump and Meter Service to back up its petroleum service products. This fact is slowly being lost in today's world of incremental market share and big box sellers. As time went on, other excellent petroleum equipment lines were added such as Graco, Rotary Lift, Veeder Root, Red Jacket, LSI, Containment Solutions, Xerxes, OPW, and Franklin Fueling.
Pump and Meter Service kept adding quality employees who remain to this day the cornerstone of its success. In 1974 and 1976 Lee's sons, Joe Radermacher and Tom Radermacher, joined the family business bringing engineering and professional talents to the firm, which allowed Lee to reduce his time commitment. Several key employees were on board at that time, namely Ron Komis (1966) and Stan Biggen (1968). Several more would follow in the ensuing years: Mike Eicher (1980), Art Staaf (1978), Cheryl Simpson (1983), Don Krushke (1986), Ron Smith (1982), Sparky Bejin (1990) and numerous others. Pump and Meter Service is very proud of their 67 employees, a big change from the five employees they started with in 1959.
In 1980, Pump and Meter Service was relocated to its present location in Hopkins, Minnesota. Woodrich Construction sold out allowing Pump and Meter Service to expand on 3.7 acres. In 1992, a 16,000 square foot warehouse and service building was added to the existing 7,000 square foot building. In 1984, a buyout agreement was written between Lee and his two sons and was finalized in 1998. Lee, after 40 great years, retired and now spends the winters at his Arizona home and summers in Minnesota.
Now a third generation is taking the reins at Pump and Meter Service, Inc. Kurt Radermacher, Joe's son, has taken an active role in Sales Management. A 2011 graduate of Purdue University with a degree in business, Kurt brings fresh, new energy to sales and marketing.  He is assembling a new young team in Sales, Service, and Construction, and expanding branch operations in Chippewa Falls, WI, Bemidji, MN, and Duluth, MN.  Kurt is currently a minority stock-holder with transition plans and buy-sell agreements already in place.
Throughout the unleaded tank boom of the late sixties, the mechanical computer pricing upgrades and the gas station self service boom of the late seventies, all the way to the age of electronic retrofits to gas pumps, the development of the multiple product dispenser (MPD), the business boom of underground tank compliance in the nineties, and moving into the new regulations of credit card processing, such as EMV (European Master Visa), mobile payments, and Chip and PIN Technology,  Pump and Meter Service has always kept its focus on what's best for its customers and operated accordingly. This has been one key to our success and will continue to be in the future as we move into the uncharted waters, of renewable and cleaner fueling options.
Team Members
Kurt Radermacher - CEO and President 
Sales
Travis Rittenbach  - Sales Manager
Richard Trebtoske - EV Sales Consultant, Northern Minnesota and Western Wisconsin for Retail/Industrial and Commercial
Dave Davenport - Sales Consultant, Minnesota/Wisconsin for Government Fueling, All Automotive and lubrication Equipment
Mitch Weege - Sales Consultant, Central and Southern Minnesota for Retail/Industrial and Commercial Fueling
Zach Nordling  - Sales Consultant,  Retail/Industrial and Commercial Fueling
Construction
Ryan Smith - Construction Manager
Ryan Chadwick - Asst. Construction Manager
Service
Bob Harrington - Director of Service
Kevin Mann - Service Manager
Chris McNeal - Automotive Hoist and Service Coordinator 
Parts Department
Joe Nelson -  Parts Manager 
Bob Schopp -  Parts Department
Chad Armstrong - Shipping and Receiving
Office
Carol Youmans - Office Manager
Bejin
Sparky Bejin - Wisconsin Branch Manager
Andy Bejin - Bejin Pump Service - Asst. Service Manager
As a service to you, our customers, we would like to provide the following links to assist you in obtaining more information about our industry.