We are a full service KARCHER commercial dealer with a full line of pressure washers, parts,certified service, and sales.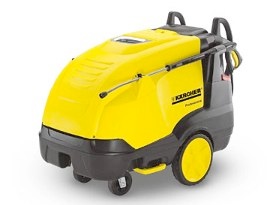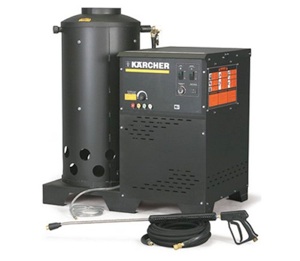 Hot Water Pressure Washers
Faster results and shorter drying times - hot water quickly loosens and dissolves dirt, solidified oils and fats allowing workers to save time and energy. As well as being cost-effective and economical, surfaces that are cleaned with hot water dry faster enabling them to be used sooner.
Germ-reducing effect without detergents - cleaning with hot water significantly reduces the presence of germs without the need for disinfectants. This helps to protect the environment, as well as saving money and resources.
Protection of surfaces - achieve the same cleaning effect and protect sensitive surfaces by cleaning using a lower working pressure.
Cold Water Pressure Washers
Maximum mobility - quickly and safely transport your machine with minimal effort, whether loading into a vehicle or carrying up steps, thanks to the compact size and ergonomic design; it can also be easily stored when not in use.
Total independence - use even where there is no power supply, Kärcher gas-powered pressure washers are perfect for those on the move. These machines are ideal for use in agriculture, construction or the public sector.
Industry-specific solutions - specifically designed and tailored to your requirements, Kärcher provides machines to be used in a variety of industries from the strict hygiene requirements of the food industry to use in potentially explosive environments.